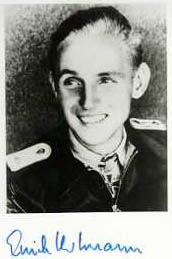 With 352 confirmed kills in a combat career of only two and a half years - November 1942 to May 1945 - and begun at the age of only 20, Luftwaffe Major Erich Hartmann was the greatest fighter ace of all time.
Erich Hartmann, the son of a doctor, was born in Weissach, Germany, on 19th April, 1922. He was taught to fly gliders by his mother at the age of 14. He joined the Luftwaffe and was sent to the Eastern Front in the autumn in 1942.
An outstanding pilot, he was appointed Squadron Commander of Fighter Group 53 in 1944. Flying an ME 109, he achieved 352 kills during the Second World War. In 30 months of fighting he flew 1,425 combat missions and was shot down sixteen times but was never wounded. Apart from six American planes shot down over the Romanian oilfields - including five Mustangs in one day - all his kills were Soviet aircraft. He was decorated with the Germany's absolutely highest military honour - the Knight's Cross with Oak Leaves, Swords and Diamonds.
On the last day of the war, Hartmann flew from his base in German-occupied Bohemia (present-day Czech Republic) and surrendered to the British in north-western Germany, shooting down a Soviet Yak-11 along the way. But the British handed him over to the Red Army and the Soviets held him in a prison camp for ten years. After his release in 1955, Hartmann turned down the offer of a position in the East German air force and joined the West German Luftwaffe instead.
His authorized biography, The Blond Knight of Germany, was published in 1970. Erich Hartmann died in Stuttgart in 1993.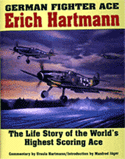 German Fighter Ace Erich Hartmann the...
German Fighter Ace Erich Hartmann:the Life Story of the World's Highest Scoring Ace
A 300-page pictorial biography. Buy this book.
The Blond Knight of Germany
Erich Hartmann's authorised biography. Buy this book.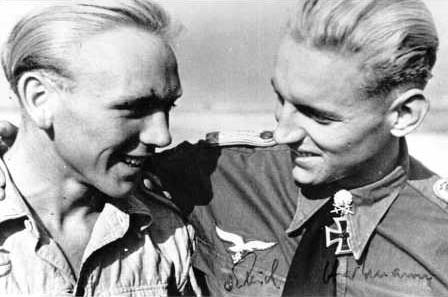 Erich Hartmann (right) with his crew chief Heinz Mertens (left).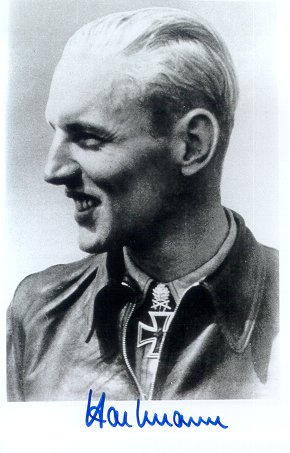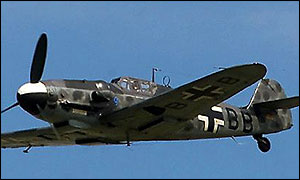 a Messerschmitt BF-109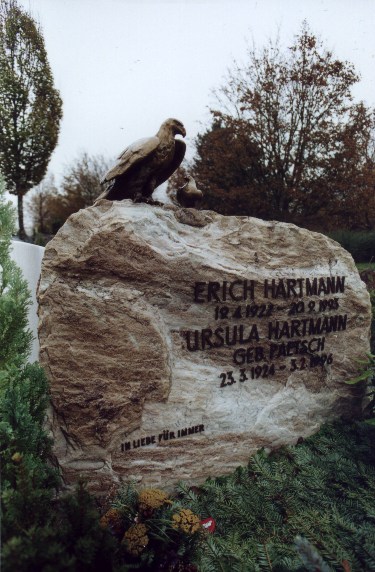 Hartmann's grave, Weil im Schönbuch near Stuttgart
Photograph: copyright by Gerhard Schnecke, 2001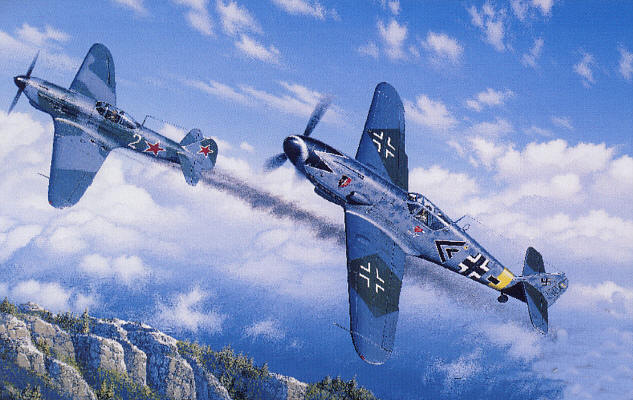 Black Devil of the Ukraine
Erich Hartmann, shoots down a Yak on the Eastern Front with his Me-109.

Buy this painting at
Old Glory Prints
In the US call 800-731-0060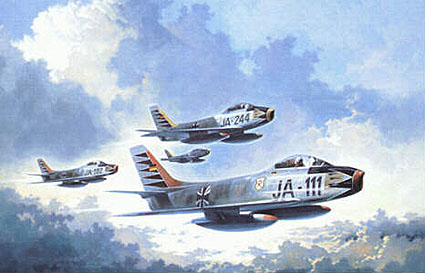 Painting by Heinz Krebs depicting the by now Colonel Hartmann flying an F-86 fighter jet of the West German air force in 1961. The nose of Hartmann's F-86 sports the black tulip, his personal emblem throughout World War II.
Buy a print at the Flower of Scotland Gallery

Read more about Erich Hartmann at these sites:
AcePilots.com World War 2 Aces Art Haus Erich Hartmann's Personal Data