Werner Hartenstein
1908-1943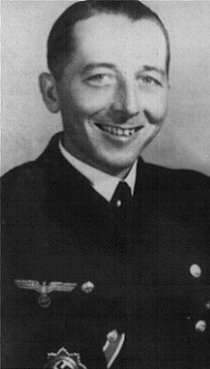 This site is dedicated to honouring the memory of Werner Hartenstein, commander of German submarine U-156, who undertook one of the most remarkable sea rescue missions of World War II, known as the Laconia Incident.
"I have nothing but reverence and fondness for the memory of Werner Hartenstein... He saved my life."
Dr. Tony Large
"Hartenstein was a man of honour and humanity…When he spoke it was in a very gentle manner…I liked the man. I liked his approach… As a captain myself, I would say Werner Hartenstein was my friend."
Captain David Cledlyn Jones

Books on Werner Hartenstein and the Laconia Incident

U-156 Society founded in Hartenstein's home town, Plauen

Cunard postcards of the Laconia

L'affondamento del Laconia (Italiano)

Werner Hartenstein's Naval Career
U-boat and other World War 2 Links

Laconia survivors crowding the deck of Hartenstein's U-156
Diese Seite ist dem Gedächtnis und zu Ehren von Werner Hartenstein gewidmet, Kommandant des deutschen U-bootes U-156, das im Verlauf des Zweiten Weltkrieges bemerkenswerte Rettungsaktionen auf See durchführte.
"Ich habe nichts als Verehrung und Zuneigung für die Erinnerung an Werner Hartenstein.. Er rettete mein Leben."
Dr. Tony Large
"Hartenstein war ein Mann von Ehre und Menschlichkeit... Als er sprach, war es in einer sehr ruhigne Art... Ich mochte den Mann... Ich mochte seine Einstellung... Als ein Kapitän wie ich selbst, würde ich Werner Hartenstein sagen - er war mein Freund."
Captain David Cledlyn Jones
Most recent update: January 26, 2003